Radio Loyalty Review: Paid To Listen Music
Have you ever wanted to get paid for listening to your favorite music? I have the perfect website for you called Radio Loyalty. With
Radioloyalty.com
you get paid for listening to music on you computer, phone, or tablet. Sounds to good
to be
true right? Well that is why I am doing this Radio Loyalty Review.

When people hear you can earn money for listening to music people think SCAM! Well this one is actually legit. Your not going to become a millionaire with this website, but hey a little extra spending money never hurt anyone.
Radio Loyalty doesn't just pay your for music, but they have good music to choose from! They have stations of almost all genres of music. Just choose what type of music you want to hear and start earning!
In this review I will show you how Radio Loyalty works, how you earn cash, and what you can redeem your points for.
How Radio Loyalty Works
Radio loyalty is actually a pretty simple concept, you sign up for a free account and listen to radio stations on your computer, mobile device, or tablet. While you listen to music you get paid for every 10 minutes that you listen. It really is as easy as that.
Your probably wonder how is Radioloyalty.com able to pay us for listening. Whenever you join visual ads are going to pop up on the screen. Don't worry you can ignore them, but Radio Loyalty is bringing in money for each ad. Luckily for us these ads are paying us to listen to music.
When your earning money you won't actually see the normal dollar sign with the amount you have earned. Radio Loyalty calls the money "loyalty points". Each loyalty point you earn will exchange for prizes and rewards (read on to learn more about rewards).

There are actually a few ways to earn with Radio Loyalty. My personal favorite is listening to music, but they do offer some other things that can earn you some points. You will find all the ways listed below with a bit of a description.
Listening To Music: Get paid around 10 cents per 10 minutes of listening to music. You can also earn by sharing on social media and using the thumbs up or down rating system.
Completing Offers:
Earn by completing offers most of the offers are free and
require
you to sign up for a free trial of a service
Taking Surveys:
4 different surveys
are offered
each day. Each survey
may be
completed once a day and pay pretty well!
Watching Videos: They call it watching videos, but most of the time it is visiting a site for a certain time frame, either way you earn some extra points!
Referring Others: One great way to earn more is by referring your friends. You will earn 10% of all of your referral's earnings.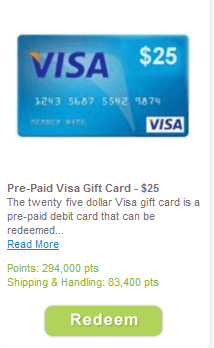 Here is the only downside to Radio Loyalty. The rewards section offers very little options. You can redeem for a Visa Prepaid Card, which I assume most people will choose, but here are some more options.
Ipod
,
Ipad
, Wireless Keyboard,
Ihome
, Kindle, Beats Headphones, and a few other products.
There is one more thing, on the Gift Cards they only come in $25 and $50, which is disappointing because that is a rather high cash out amount.
But the Prepaid cards do work which and does have the right amount on them!
How Much Can You Earn With Radio Loyalty?
I wanted to include this part to give you realistic expectations for radioloyalty.com. This program is not going to make you rich, but you can earn some extra money each month. If you have some friends that might be interested, have them sign up as referrals and you will earn some extra cash.
It took me about 2 months to reach the $25 prepaid card, but I have gained more referrals and I am on my way to my 2nd cash out much quicker!
Just know that you're not going to make a ton of money, but Radio Loyalty is a great way to earn some extra cash while doing something you probably already do a lot of!
Price:
Free - Verdict: Legit!

I gave Radio Loyalty a 85 out of 100 because I have verified that you do get paid by this company and they are legit. I think

there

is room for improvement with

there

point system, I would rather just see a dollar amount that I have earned and I would like to see an option for PayPal payments instead of the gift cards and prizes.

Radio Loyalty is completely legit and safe to use. It seems

to be

a no brainer, if your going to listen to music why not get paid for it even if it's just a few bucks a day.

Thank you for reading this Radio Loyalty Review. You have seen how it works and that you actually can get paid to listen to music. I would love to hear what you have to say about this post and company inside the comments section and don't forget to share!